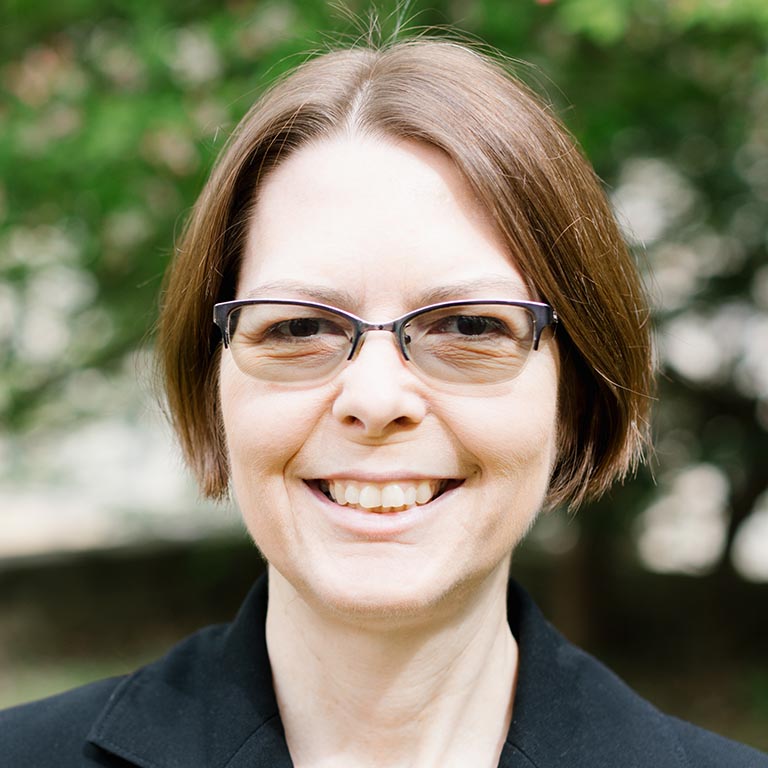 Candy Gunther Brown
Professor, Religious Studies
Affiliate Faculty, American Studies
browncg@indiana.edu

SY 327
Office Hours

M

onday

11:15am - 12:15pm; or by appointment
Education
Ph.D., Harvard University, 2000
About Candy Gunther Brown
I am an historian and ethnographer of religion and culture. My particular focus is the United States, understood within the broader frameworks of the Americas and global cultural flows. My first book, The Word in the World: Evangelical Writing, Publishing, and Reading in America, 1789-1880 (University of North Carolina Press, 2004), assesses how evangelicals interacted with the burgeoning print market of the mid-nineteenth century.
Studying evangelical print culture alerted me to the significance of "sanctification," pursuit of holiness or freedom from sin and its consequences—including bodily sickness—as an organizing yet inadequately examined theme in American evangelicalism. As I followed the story forward in time and across space, I discovered the centrality of divine healing practices to the spread of global Pentecostal and Charismatic Christianity in the twentieth and twenty-first centuries. My edited book, Global Pentecostal and Charismatic Healing (Oxford University Press, 2011), reveals that the primary appeal of Pentecostalism worldwide is as a religion of healing.
Many people claim that prayer has cured them of blindness, deafness, and metastasized cancers. Can, and should, science test such claims? Testing Prayer: Science and Healing (Harvard University Press, 2012) argues that if prayer practices affect health—for better or for worse, for natural or for supernatural reasons—then doctors, patients, and policymakers should all want to know. This book models a multipronged, empirical method for studying prayer practices: comparison of medical records from before and after prayer, surveys of prayer recipients, prospective clinical trials, and multiyear follow-up observations and interviews.
As I interviewed Christians about their divine healing practices, some of them surprised me by describing their love for complementary and alternative medicine (CAM). This led me to write The Healing Gods: Complementary and Alternative Medicine in Christian America (Oxford University Press, 2013). People usually ask whether CAM works without asking why it is supposed to work. Many popular CAM practices—such as yoga, chiropractic, acupuncture, Reiki, Therapeutic Touch, meditation, martial arts, homeopathy, and anticancer diets—are premised upon religious theories closely associated with Hinduism, Buddhism, Taoism (Daoism), or Western metaphysics—and lack scientific evidence of efficacy and safety. Yet, CAM entered the American cultural and evangelical Christian mainstreams as people re-categorized practices as non-religious (though generically spiritual) health-care, fitness, or scientific techniques. Holistic health care raises ethical and legal questions of informed consent, consumer protection, and religious establishment at the center of biomedical ethics, tort law, and constitutional law. Healing Gods gets to the heart of values such as personal autonomy, self-determination, religious equality, and religious voluntarism.
Taking a broader view of evangelical Christianity, my co-edited (with Mark Silk) book, The Future of Evangelicalism in America (Columbia University Press, 2016), explores the importance of culture, spirituality, theology, politics, ethnicity, and generational change in making evangelicalism a vibrant and sometimes controversial movement, the future of which is closely tied to the future of America.
While Healing Gods was in production, I was asked to serve as an expert witness in a lawsuit over the constitutionality of a public-school Ashtanga yoga program. This experience led to additional requests for expert witness service: evaluating Superbrain yoga, Waldorf methods, and mindfulness meditation. Most people assume that, despite roots in Hinduism, Buddhism, and other religious and spiritual traditions, only secularized versions of yoga and mindfulness are taught in public schools. Debating Yoga and Mindfulness in Public Schools: Reforming Secular Education or Reestablishing Religion? (University of North Carolina Press, 2019) scrutinizes the histories and contexts of school programs, legal precedents, unpublished trial records, interviews, and insider documents, some of which articulate goals of winning a "Vedic victory" or advancing "stealth Buddhism." Paradoxically, secular framing can both veil and heighten religious effects by encouraging participation by those who would abstain if they perceived these practices as religious. The result may be an unrecognized, fundamental historic and legal transformation: the reestablishment of religion in America. Reconceptualizing secularization as transparency and voluntarism, Debating Yoga and Mindfulness recommends respect for cultural and religious diversity through an opt-in model of informed consent.
Currently, I am working on two book projects: a biography of the Catholic Charismatic Francis MacNutt (1925-2020) and a historical and ethnographic study of demonology, deliverance, and exorcism practices.
Journal articles (Peer-Reviewed)
"Tibetan Singing Bowls," American Religion 1.2 (2020): 52-73.
"Christian Yoga: Something New Under the Sun/Son?." Church History 87.3 (2018): 659-83.
"Spiritual Property Rights to Bodily Practices: Pentecostal Views of Yoga and Meditation as Inviting Demonization," in Annual Review of the Sociology of Religion: Volume 8 Pentecostals and the Body, ed. Michael Wilkinson and Peter Althouse, 55-76 (Boston: Brill, 2017).
"Integrative Medicine in the Hospital: Secular or Religious?" Society (2015), DOI 10.1007/s12115-015-9929-8.
"Textual Erasures of Religion: The Power of Books to Redefine Yoga and Mindfulness Meditation as Secular Wellness Practices in North American Public Schools," Studies in Book Culture 6.2 (2015): DOI 10.7202/1032713ar.
"Pentecostal Healing Prayer in an Age of Evidence-Based Medicine." Transformation: An International Journal of Holistic Mission Studies 32.1 (2015): 1-16.
"Feeling is Believing: Pentecostal Prayer and Complementary and Alternative Medicine." Spiritus: A Journal of Christian Spirituality 14.1 (2014) 59-66.
"Pentecostal Power: The Politics of Divine Healing Practices." PentecoStudies: An Interdisciplinary Journal for Research on the Pentecostal and Charismatic Movements 13.1 (2014): 35-57. (Article awarded the Jane Dempsey Douglass Prize, American Society of Church History)
"Balancing Personalized Medicine and Personalized Care," by Kenneth Cornetta, MD and Candy Gunther Brown, PhD. Academic Medicine 88.3 (2013): 1-5.
"Studying Divine Healing Practices: Empirical and Theological Lenses and the Theory of Godly Love." PentecoStudies: An Interdisciplinary Journal for Research on the Pentecostal and Charismatic Movements 11.1 (2012): 48-66.
"Study of the Therapeutic Effects of Proximal Intercessory Prayer (STEPP) on Auditory and Visual Impairments in Rural Mozambique," by Candy Gunther Brown, PhD; Stephen C. Mory, MD; Rebecca Williams, MB BChir, DTM&H; Michael J. McClymond, PhD. Southern Medical Journal 103.9 (2010): 864-869.
"Chiropractic and Christianity: The Power of Pain to Adjust Cultural Alignments." Church History: Studies in Christianity and Culture 79:1 (2010): 1-38.
"Touch and American Religions." Religion Compass 3.4 (2009): 770-783.
"From Tent Meetings and Store-front Healing Rooms to Walmarts and the Internet: Healing Spaces in the United States, the Americas, and the World, 1906-2006." Church History: Studies in Christianity and Culture 75.3 (2006): 631-647.
"Publicizing Domestic Piety: The Cultural Work of Religious Texts in the Woman's Building Library." Libraries and Culture 41.1 (2006): 35-54.
"Prophetic Daughter: Mary Fletcher's Narrative and Women's Religious and Social Experiences in Eighteenth-Century British Methodism." Eighteenth-Century Women: Studies in Their Lives, Work, and Culture 3 (2003): 77-98.
"'Faith Working through Love': The Wesleyan Revivals and Social Transformation—Considerations for the Contemporary Filipino Church." Phronesis:Journal of Asian Theological Seminary (Jan. 1997): 5-20.
"The Spiritual Pilgrimage of Rachel Stearns, 1834-1837: Reinterpreting Women's Religious and Social Experiences in the Methodist Revivals of Nineteenth-Century America." Church History: Studies in Christianity and Culture 65.4 (1996): 577-595. (Article awarded the Sidney E. Mead Prize, American Society of Church History)
Book Chapters
"Toward a Globally Contextual Model of United States Demonology and Deliverance." In Pentecostal World, ed. David Wilkinson and Jörg Haustein. New York: Routledge, forthcoming 2023.
"Funding Yoga for Kids: Hinduism, Philanthropy, and Public Education." In Religion and Philanthropy in the United States, ed. David King and Philip Goff. Bloomington: Indiana University Press, forthcoming 2023.
"Selling Buddhism by Branding Mindfulness and Reiki as Valuable, Secular Services: Three Interacting Economic Models." In Buddhism Under Capitalism, ed. Richard K. Payne and Fabio Rambelli, 47-61. New York: Bloomsbury, 2022.
 "Faith Healing and Modern Medicine." In Cambridge Companion to American Protestantism, ed. Jason Vickers and Jennifer Woodruff Tait, 241-59. Cambridge: Cambridge University Press, forthcoming 2022.
"Yoga Spirituality in the Context of U.S. Institutions." In Situating Spirituality: Context, Practice, and Power, ed. Brian Steensland, Jaime Kucinskas, and Anna Sun, 262-77. New York: Oxford University Press, 2021.
"Christian Perspectives on Praying for Deliverance from Demons." In Human Interaction with the Divine, the Sacred, and the Deceased: Psychological, Scientific, and Theological Perspectives, ed. Thomas G. Plante, 104-120. New York: Routledge, 2021.
"Meditation and Education." In The Oxford Handbook of Meditation, ed. Miguel Farias, David Brazier, and Mansure Lalljee, 771-796. New York: Oxford University Press, 2021.
 "Ethical and Legal Considerations for Using Mind–Body Interventions in Schools." In Promoting Mind-Body Health in Schools: Interventions for Mental Health Professionals, edited by Cheryl Maykel & Melissa Bray. Washington, D.C.: American Psychological Association, 2019.
"Francis MacNutt and the Globalization of Charismatic Healing and Deliverance." In Pentecostalism, Catholicism, and the Spirit in the World, ed. Stan Chu Ilo, 115-33, in Studies in World Catholicism. Eugene, Ore.: Cascade, 2019.
"Encounters with Modernity among Received Spiritualities and Traditions." In The Oxford History of Dissenting Protestant Traditions: Vol. V: The Twentieth Century: Themes in a Global Context, ed. Mark Hutchinson, 26–60. New York: Oxford University Press, 2018.
"Introduction: Dissenting Traditions in Globalized Settings" (with Mark Hutchinson). In Oxford Handbook, ed. Hutchinson, 1–25 (above).
"Ethics, Transparency, and Diversity in Mindfulness Programs." In A Practitioner's Guide to Ethics in Mindfulness-based Interventions, ed. Lynette Monteiro, Jane F. Compson, and R. F. Musten, 46-85. New York: Springer, 2017.
"Print Culture and the Changing Faces of Religious Communication." In Lived Religion: Print Culture and Religious Periodicals in Transoceanic Contexts, ed. Oliver Scheiding. Newcastle upon Tyne, UK: Cambridge Scholars, 2017.
"Can 'Secular' Mindfulness be Separated from Religion?" In Handbook of Mindfulness: Culture, Context, and Social Engagement, ed. Ronald E. Purser, David Forbes, and Adam Burke, 75-94. New York: Springer, 2016.
"Heaven is for Real and America's Fascination with Near-Death Experiences." In Death, Dying, and Mysticism, ed. Thomas Cattoi and Christopher Moreman, 134-150. New York: Palgrave Macmillan, 2015.
"Conservative Evangelicalism." In The Brill Handbook for Global Christianity, ed. Stephen Hunt, 49-74. Leiden, The Netherlands: Brill, 2015.
"Healing." In Cambridge Companion to American Methodism, ed. Jason Vickers, 227-242. Cambridge: Cambridge University Press, 2013.
Foreword to Divine Healing: The Proto-Pentecostal Years, 1890-1906: Holiness-Pentecostal Transition in the Transatlantic World, by James Robinson. Eugene, OR: Wipf and Stock, 2013.
"Practice." In Religion in American History [textbook], ed. Amanda Porterfield and John Corrigan, 302-322. Malden, MA: Wiley-Blackwell, 2010.
"Healing Words: Narratives of Spiritual Healing and Kathryn Kuhlman's Uses of Print Culture, 1947-1976." In Religion and the Culture of Print in Modern America, ed. Charles L. Cohen and Paul S. Boyer, 271-297. Madison: University of Wisconsin Press, 2008.
"Religious Periodicals and Their Textual Communities." In A History of the Book in America, vol. 3, The Industrial Book, 1840-1880, ed. Scott Casper, Jeff Groves, Stephen Nissenbaum, and Michael Winship, 270-278. Chapel Hill: University of North Carolina Press & AAS, 2007. (Volume awarded the St. Louis Mercantile Library Prize in Bibliography)
"Singing Pilgrims: Hymn Narratives of a Pilgrim Community's Progress from This World to That Which is to Come, 1830-90." In Sing Them Over Again to Me: Hymns and Hymnbooks in America, ed. Mark A. Noll and Edith L. Blumhofer, 194-213. Tuscaloosa: University of Alabama Press, 2006. 
"Evangelicals." In American History through Literature, 1820-1870, Vol. 1, ed. Janet Gabler-Hover and Robert Sattelmeyer, 381-386. New York: Charles Scribner's Sons, 2006.
 "Sanctified Singing: The Role of Hymnody in Shaping Wesleyan Evangelism, 1735-1915." In Considering the Great Commission: Evangelism and Mission in the Wesleyan Spirit, ed. Stephen Gunter and Elaine Robinson, 211-220. Nashville: Abingdon, 2005.
"Domestic Nurture Versus Clerical Crisis: The Gender Dimension in Horace Bushnell's and Elizabeth Prentiss's Critiques of Revivalism." In New Perspectives on North American Revivalism, ed. Michael McClymond, 67-83. Baltimore: Johns Hopkins University Press, 2004.
Recent courses
Introduction to Religion in America
Introduction to Christianity
Evangelical America
Religion, Illness, and Healing
Superheroes and Religion
Awards
&

Honors
President of the American Society of Church History, 2017
Jane Dempsey Douglass Article Prize, American Society of Church History, 2014
Trustees' Teaching Award, Indiana University, 2010
Outstanding Junior Faculty Award, Indiana University, 2007-2008
John Clive Teaching Prize, Harvard University, 1998
Sidney E. Mead Article Prize, American Society of Church History, 1995
Harvard University A.B. summa cum laude, 1992
Phi Beta Kappa [Junior 12], 1991, 1992
National Merit Scholar, 1989
National Forensics League National Finalist and California State Champion, 1988, 1989