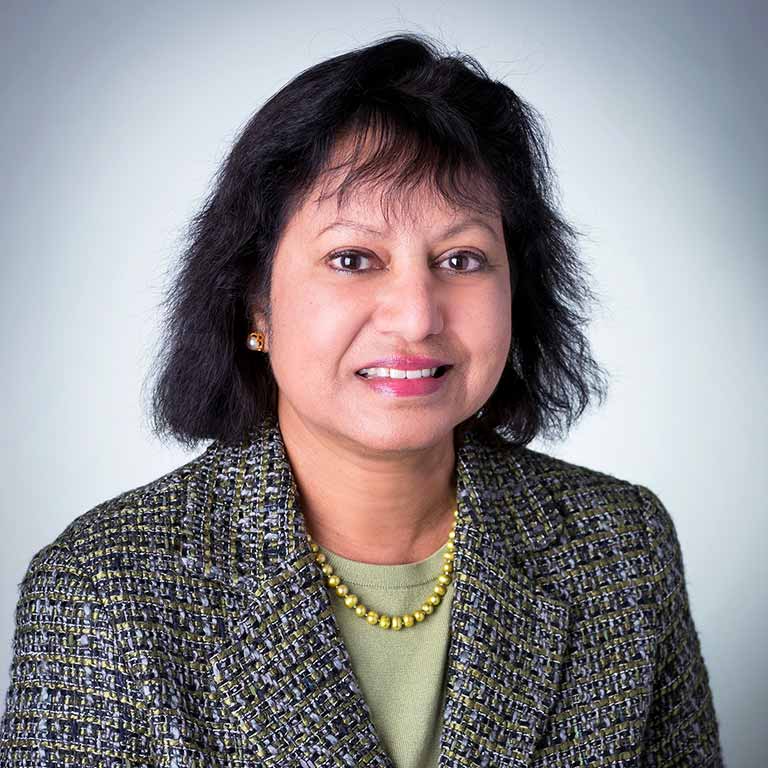 Asma Afsaruddin
Class of 1950 Herman B. Wells Endowed Professor
Professor, Middle Eastern Languages and Cultures
Adjunct Professor, Religious Studies
Affiliated Professor, Gender Studies
aafsarud@indiana.edu

Global and International Studies Building 3041
Office Hours
Education
Ph.D., Johns Hopkins University, 1993
Research interests
Islamic religious and political thought, pre-modern and modern
Qur'an exegesis and hadith criticism
War and peace in Islamic thought and tradition
Inter-faith relations
Islamic feminism(s)
Pluralism and reform in Islamic thought
Contemporary Islamic movements
About Asma Afsaruddin
My newest book is titled Jihad: What Everyone Needs to Know published by Oxford University Press (2022) written for a general readership that distills much of my past and ongoing research on this critical topic. In accessible language, I seek to provide a historically grounded and scholarly treatment of the various meanings of jihad from the first century of Islam until the present time, avoiding the sensationalism and fearmongering that often accompanies the discussion of this topic in popular venues. Before that, I published a well-received textbook titled Contemporary Issues in Islam (2015) which addresses some key issues of particular relevance in the contemporary period in relation to Islam and Muslims. These issues include Muslim reactions to secular modernity, political Islam, religious extremism and militancy, gender, and inter-faith relation. The book also discusses the predicament of Western Muslims as they combat Islamophobia and make their mark primarily in the United States and western Europe. Prior to that I published the monograph Striving in the Path of God: Jihad and Martyrdom in Islamic Thought and Praxis (2013), after researching its content for eight years, aided by Carnegie and Guggenheim fellowships. The book focuses on a shifting trajectory of the meanings of jihad and of the related concepts of "martyr" and "martyrdom" from the earliest period of Islam through the late medieval period and down to our present time. It retrieves a broad spectrum of meanings assigned to the term jihad and its derivatives in the Qur'an, especially as reflected diachronically in exegetical works. Additionally, I look at hadith works (containing the statements of the Prophet Muhammad), later fada'il al-jihad ("excellences of jihad") works, and standard legal treatises on the topic, as well as contemporary literature on jihad, terrorism, and so-called "martyrdom operations."
I am currently editing the Oxford Handbook on Islam and Women, scheduled to be published in 2023, which has 34 chapters covering various facets of Muslim women's variegated lives in the pre-modern and modern periods through various lenses: scriptural, legal, literary, devotional, and political. In the past I was a senior editor for the Oxford Encyclopedia of Women and Islam and have served on the editorial boards of the International Journal for Middle East Studies, Middle East Studies Association Bulletin, Blackwell's Religion Compass (Islam Section), the Oxford Dictionary of Islam, the Oxford Encyclopedia of the Islamic World, and Routledge's Medieval Islamic Civilization, among others. 
I frequently give invited lectures and conference papers on various aspects of Islamic thought in the United States, Europe, the Middle East and Southeast Asia. I also consult with a number of governmental and non-governmental agencies, such as the Pew Forum on Religion and Global Affairs, the US State Department, the US Institute of Peace, Karamah (which advocates for Muslim women's rights), and others. I am a past member of the Board of Directors of the American Academy of Religion, the current Chair of the Board of Directors of the Center for the Study of Islam and Democracy and a member of the Advisory Council of the Alwaleed Center for Muslim-Christian Understanding at Georgetown University.
Books
(Editor) Oxford Handbook of Islam and Women. Oxford: Oxford University Press, 2022 (forthcoming)
Jihad: What Everyone Needs to Know. Oxford: Oxford University Press, 2022
Contemporary Issues in Islam. Edinburgh: Edinburgh University Press, 2015 Honorable Mention, British-Kuwaiti Friendship Society, 2016
Striving in the Path of God: Jihad and Martyrdom in Islamic Thought and Practice. Oxford: Oxford University Press, 2013. Winner of the World Book Prize awarded by the Ministry of Cultural Affairs, Iran (2015) Runner-up for the British-Kuwaiti Friendship Society Book Prize (2014) Translated into Bahasa Indonesian as Tafsir Dekonstruksi Jihad & Syahid. Jakarta: Mizan Press, 2018
The First Muslims: History and Memory. Oxford: Oneworld Publications, 2008. Translated into Bahasa Malay as Golongan Muslim Pertama: Sejarah dan Memori. Kuala Lumpur: Islamic Renaissance Front, 2018 Translated into Turkish as Ilk Müslümanlar: Tarih ve Bellek. Istanbul: Tuti Kitap, 2014
Excellence and Precedence: Medieval Islamic Discourse on Legitimate Leadership. Leiden: E.J. Brill, 2002.
(Editor) Hermeneutics and Honor: Negotiating Female Public Space in Islamic/ate Societies. Middle East Monograph Series. Cambridge, Mass. Harvard University, 1999.
(Co-editor) Humanism, Culture and Language in the Near East: Essays in Honor of Georg Krotkoff. Winona Lake, Ind.: Eisenbrauns, 1997
Recent articles
&

other publications

"Egalitarianism in Islam." In The Cambridge History of Socialism. Ed. Marcel van Linden.  Cambridge, Eng.: Cambridge University Press, 2022. Pp. 56-78

"Looking for the Caliphate in All the Wrong Places: ISIS and Its Reading of Scripture." In Overcoming Orientalism: Essays in Honor of John L. Esposito. Ed. Tamara Sonn. Oxford: Oxford University Press, 2021. Pp. 121-148

"Jihad and the Qur'an: Classical and Modern Interpretations." In The Oxford Handbook of Qur'anic Studies. Ed. Mohammad Abdel Haleem and Mustafa Shah.  Oxford: Oxford University Press, 2020. Pp. 512-526

"Women and the Qur'an." In The Oxford Handbook of Qur'anic Studies. Ed. Mohammad Abdel Haleem and Mustafa Shah. Oxford: Oxford University Press, 2020. Pp. 527-537

"Jihad, Gender, and Religious Minorities in the Siyar Literature: the Diachronic View," Studia Islamica 114 (2019): 1-26 

"Martyrdom and Its Contestations in the Formative Period of Islam." In Martyrdom, Self-Sacrifice and Self-Immolation: Religious Perspectives on Suicide. Ed. Margo Kitts. Oxford: Oxford University Press, 2018. Pp. 85-105

"Loyalty and Obedience to the Ruler: Religious Obligation or Practical Necessity."  The Muslim World. Ed. Armando Salvatore et al. Oxford: John Wiley & Sons, 2018. Pp. 235-252

"Shari'a and Fiqh." In the Oxford Handbook of American Islam. Ed. Jane Smith and Yvonne Haddad. Oxford: Oxford University Press, 2014. Pp. 174-186

"Martyrdom in Islam: A Historical Survey." In Terrorism, Martyrdom, and Religion: European Perspectives in Global Context. Eds. Dominic Janes and Alex Houen. Oxford: Oxford University Press, 2014. Pp. 40-58

"Early Women Exemplars and the Construction of Gendered Space: (Re-)Defining Feminine Moral Excellence." In Harem Histories: Envisioning Places and Living Spaces. Ed. Marilyn Booth. Durham, N.C.: Duke University Press, 2010. Pp. 23-48

"Where Heaven and Earth Meet: Remembering Muhammad as Head of State." In The Cambridge Companion to Muhammad. Ed. Jonathan Brockopp. Cambridge, Eng.: Cambridge University Press, 2010. Pp. 180-198

"The Hermeneutics of Inter-Faith Relations: Retrieving Moderation and Pluralism as Universal Principles in Qur'anic Exegeses." Journal of Religious Ethics 37 (2009) :331-54
Recent courses
Islam and Modernity
War and Peace in the Islamic Tradition
Islamic Feminism(s)
The Golden Age of Islamic Civilization
Islam in the Eyes of the West
Qur'an Commentaries
Hadith Sciences
Awards
&

Honors
Named Class of 1950 Herman B. Wells Endowed Professor, 2022
Winner of the Trustees Teaching Award, Spring 2021
Howard F Mahan Lecturer at the University of South Alabama, 2021
Inducted into the Johns Hopkins University Society of Scholars, April 8, 2019
Sidddiqi lecturer, Department of Religion, University of Tennessee, Knoxville, 2016 
World Book Award for Striving in the Path of God, Iranian Ministry of Culture, 2015
Runner-up for the British-Kuwaiti Friendship Society Prize for Striving in the Path of God, 2014
Dost Award for The First Muslims: History and Memory by the Turkish Women's Association (TURKKAD), Istanbul, Turkey, 2013
Kraemer Middle East Distinguished Scholar–in–Residence at the College of William and Mary, 2012
Carnegie Corporation Scholars Grant, 2005-2007
Harry Frank Guggenheim Fellowship, 2003-2004
Visiting Scholar, Centre for Islamic Studies, School of Oriental and African Studies, University of London, Autumn term, 2003
Center for Arabic Study Abroad III Fellowship for professors, 1999
American Research Institute of Turkey research grant, Summer 1998